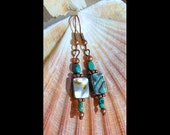 These earrings are soooo cute. They are handmade earrings by me for Watches by Helen. They dangle a mere 1 3/8 inches from the base of the ear wire. The turquoise and copper together makes it striking. They are beautiful.
Turquoise is said to help communication and to stimulate intuition. It is said to help creativity. It is said to protect. Not only are these earrings beautiful they are powerful with ...
Click Here to Visit My Etsy Shop!